Jonny Lang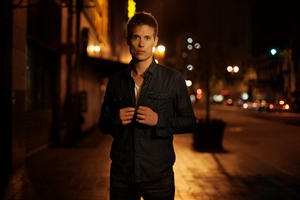 Friday, June 16, 2017 - 8pm Show

In January 1997, at the age of 16, Jonny Lang found incredible success with the release of his major label debut album Lie To Me. Fame does not seem to have impacted him from being the same country farm boy from Fargo, ND who got his start in the local clubs of Minneapolis. He survived the passage of youth to adulthood, fell in love, began a family, and in the process passed through the life lessons we all endure. He has a keen sense of what he aims to achieve creatively, what music means to him, and is focused on the impact that his songs bring to the lives of those that encounter his repertoire.

When asked what he would tell his younger self if he was afforded the opportunity to share advise, he wisely answers, "I would say all of those voices steering you away from questionable decisions, listen to them. They are right." He has encountered many in the public eye through his career that approaches two decades. With those experiences, and the personality traits he has witnessed, he has a clarity of how he wants to be, and how he wants to treat others.

This sense of who he wants to be was the core of his last studio album Fight For My Soul. Lang shares, "The inspiration for the songs on the record vary widely. Some are about personal struggles, some are focused on injustices I have seen. Some are random fictional stories that hopefully can relate to people in some way that is a blessing to them. I've wanted to make this album for a long time. Creatively, I think there is a lot more going on inside of me than I've been sharing on recordings."
This grass roots approach for FFMS was new to Lang, whose four earlier studio albums were written and crafted under the watch of his previous record labels. It was a welcome change. After Lang released his Grammy winning Turn Around in 2007, he made the decision to forego the major label route and became an independent artist. The first result was 2009's Live At the Ryman, but Fight For My Soul, by its nature, is his first fully realized artistic achievement through his own label SayRai Music, featuring his own touring band. "Recording with the band for the first time was really gratifying," says Lang. "They're all amazing musicians and we've grown together musically and personally by playing hundreds of live shows. This served us well in the making of Fight For My Soul. Because of them, I have grown musically in ways I never thought I could, and it really is an honor to have them on this record."

The path Lang has been on has brought him the opportunity to interact with some of the most respected legends in music. On the way up, he shared the stage with The Rolling Stones, B.B. King, Aerosmith, Sting, and Buddy Guy, who he continues to tour with today. As a 12-year-old, he began a journey in Fargo, ND that has brought him to points across the Globe, and as he looks on the upcoming near-term future, he shares, "Music is one of the greatest conveyers of ideas and emotions, and in a sense that doesn't have as much to do with the individual performing, but the power of the connection. One of my goals is the music can be a blessing to the people listening to it in some way."
Tickets are $60, $45 & $30 plus tax and an online/phone ticketing fee (this fee is waived when tickets are purchased in the Gift Shop). Tickets in the ADA section are for patrons with mobility disabilities and up to three companions. If companion seating is not available because the ADA section is sold out, RCGR will offer other seats as close as possible to the accessible seat, if available, at the purchase price of the other section. Tickets are on sale in the Gift Shop, by calling 877-677-3456 or online.
Hotel packages are available by calling 877-677-3456. Packages are $280 plus tax and include a one night stay in a deluxe king or double queen room, two tickets to the show and two dinners at Robert's Buffet. There are a limited number of hotel packages available.
Doors open at 7pm for the 8pm show.