Ginger Billy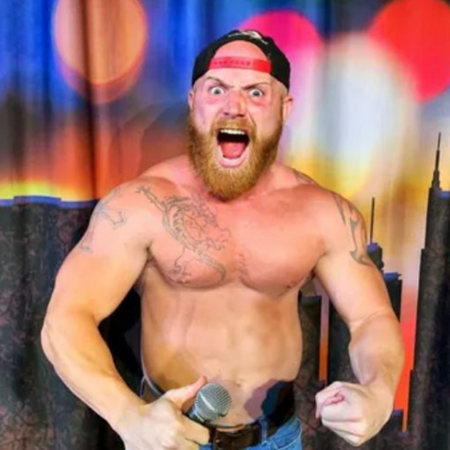 Friday January, 27 at 8 PM

Former Respiratory Therapist Breathes New Life into Rural Comedy.

Rompers, gnats, and swampy, hot summer days – these are just a few things that Ginger Billy feels strongly about. Shirtless and tattooed, the Ginger Billy gives viewers a humorous look into life in rural Upstate South Carolina. And he's doing it all on his own.

He lives between Union and Lockhart, South Carolina, with his wife and family. For years, he was a respiratory therapist. But one day, after the retirement of Dale Earnhardt Jr., he thought maybe he'd make a video. After that, it was the men's romper craze, so he went to JC Penny's and bought the biggest girls' romper he could find and did a video about that.

The video has almost 840,000 views on YouTube alone. He estimates it got between 40 and 50 million views across all social media channels. From there, things just took off. The next thing he knew he was doing stand-up. A manager signed him on and got him a gig at a casino. After that, he started touring with Catfish Cooley and others. It was a whole new world.

But this new life has come with some adjustments. People recognize him on the street. Ginger Billy's life is now about making videos and planning on tour dates. For a while, he was keeping his respiratory therapist job and licensing in his back pocket, just in case. But once Covid-19 hit, he had to focus entirely on comedy.

And while his new comedy career may be a surprise hit, it's stressful. Everything is dependent upon him being funny. Regardless, the funny ideas keep coming.

Tickets are $45, $35 & $25 plus tax and an online/phone ticketing fee (this fee is waived when tickets are purchased in the Gift Shop). Tickets in the ADA section are for patrons with mobility disabilities and up to three companions. If companion seating is not available because the ADA section is sold out, RCGR will offer other seats as close as possible to the accessible seat, if available, at the purchase price of the other section. Tickets go on sale to the general public at 10AM on Friday, November 25.Tickets are on sale in the Gift Shop, by calling 877-677-3456 or online www.riversidecasinoresort.com.

Doors open at 7pm with the event beginning at 8pm.

This show is recommended for ages 16+.