Roots & Boots Tour featuring Aaron Tippin, Collin Raye, and Sammy Kershaw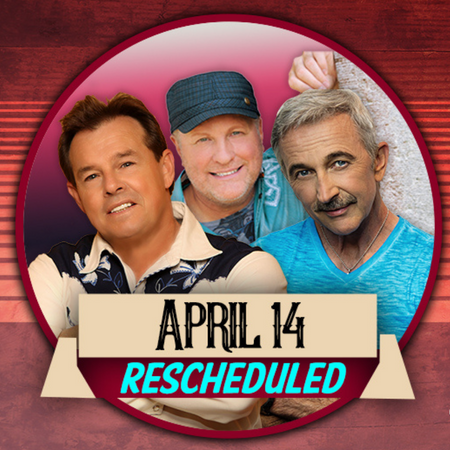 RESCHEDULED- April 14, 2023, originally scheduled for November 11, 2022

The Roots and Boots concert featuring Sammy Kershaw, Aaron Tippin, and Collin Raye originally scheduled for November 11, 2022 at 8 PM will be rescheduled to Friday, April 14, 2023 due to a minor medical procedure performed on Sammy Kershaw on November 4 and will be on vocal rest for a minimum of four weeks.

Refunds will be offered for those guests who are unable to attend the rescheduled date, by request by January 31, 2023. Please call us the Gift Shop at 319-648-1234 or email tickets@riversidecasinoandresort.com

All tickets purchased for the November 2022 date that have not previously been cancelled and refunded by request of the ticket holder will be honored at this new date. No exchanges are needed for guests who have already purchased tickets.

Three of the voices that defined 90s Country Music join forces for a one-night only concert. Concert-goers will experience Tippin's legendary songs like "You've Got to Stand for Something," Raye's searing ballads such as "In This Life," and Kershaw's timeless hits including "She Don't Know She's Beautiful."

Aaron Tippin

Aaron Tippin will be celebrating his 25th anniversary in the music business on the road doing what he loves most. Tippin ripped country music wide open with his uncompromising single "You've Got To Stand For Something." He continued to produce meaningful music with such hits as "I Wouldn't Have It Any Other Way", "That's As Close As I'll Get To Loving You," and "Stars and Stripes and the Eagles Fly." Five of his albums are certified "Gold" and a sixth CD-Read Between The Lines-stands at the "Platinum" level. Tippin's honest lyrics and direct, impassioned vocals have built a large and devoted audience.

Collin Raye

With 24 top ten records, 16 #1 hits, and having been a 10-time male vocalist of the year, this truly electrifying performer of his era remains one of the great voices of our time. Listeners were so moved by his golden and pure voice that his music set the cornerstone for a career built on meaningful and emotional songs that have often been used for weddings, anniversaries, memorial services and funerals. Collin Raye is nothing if not passionate. His soulful delivery has set country standards in such searing ballads as "Love, Me," and "In This Life." Always an energizing showman, he has also blazed through such vivid rockers as "My Kind of Girl," "I Can Still Feel You" and "I Want You Bad."

Sammy Kershaw

Since his debut on the music scene in the early 90's, Kershaw has remained one of the most consistent power hitters in country music-both with a chain of major hit records and sell-out touring schedules. In the course of breaking into the ranks of stardom in country music, Sammy Kershaw has made contributions to more than just the charts. His platinum albums were propelled into the records books by hits such as "She Don't Know She's Beautiful," "I Can't Reach Her Anymore "Love of My Life," "Cadillac Style," "Don't Go Near The Water," "Haunted Heart,"...and many other milestones.

Tickets are $75, $65 & $55 plus tax and an online phone/ticketing fee (this fee is waived when tickets are purchased in the Gift Shop). Tickets in the ADA section are for patrons with mobility disabilities and up to three companions. If companion seating is not available because the ADA section is sold out, RCGR will offer other seats as close as possible to the accessible seat, if available, at the purchase price of the other section. Tickets can be purchased in the Gift Shop, by calling 319-648-1234 or online.

Doors open at 7pm for the 8pm show.