Micky Dolenz Celebrates The Monkees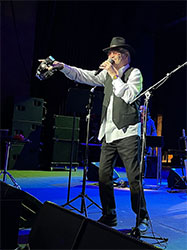 MICKY DOLENZ CELEBRATES THE MONKEES

Friday, April 15 - 8PM

Micky Dolenz of The Monkees will embark on a special series of concert dates in April. Honoring the contributions of his bandmates – the late Davy Jones, Mike Nesmith & Peter Tork – in song and with personal multimedia footage of the legendary performers, Dolenz will celebrate their lasting legacy on record and film.
Following the passing of his three bandmates and brothers, Dolenz will bring together fans of the group to commemorate their collective contributions in song. Commemorating more than 50 years of music, Dolenz will be backed by a seven-piece band, performing all of The Monkees' worldwide hits ("I'm A Believer," "Daydream Believer," "Last Train To Clarksville," "Pleasant Valley Sunday," "(I'm Not Your) Steppin' Stone" and "That Was Then, This Is Now") as well as paying tribute to the songs of Mike Nesmith ("Different Drum," "Mary, Mary," "Papa Gene's Blues," and "Listen To The Band") and Peter Tork ("For Pete's Sake" and "Can You Dig It"). Davy Jones will be honored with a spotlight on several songs that he made famous ("Look Out (Here Comes Tomorrow)" and "Valleri"). Along with their songs, Dolenz will share stories and unseen images of The Monkees from his personal archive.
This tour commemorates a unique project that began in 1965 when four young men were cast in a television show about a struggling rock band that was inspired by the Beatles' A Hard Day's Night. Few could have predicted the impact The Monkees would have on music and pop culture at large, one that still reverberates more than 50 years later.
Tickets are $60, $50 & $40 plus tax and an online phone/ticketing fee (this fee is waived when tickets are purchased in the Gift Shop). Tickets in the ADA section are for patrons with mobility disabilities and up to three companions. If companion seating is not available because the ADA section is sold, out, RCGR will offer other seats as close as possible to the accessible seat, if available, at the purchase price of the other section. Presale starts at 10AM on Thursday, February 17th. Tickets go on sale to the general public on Friday, February 18th. Tickets can be purchased in the Gift Shop, by calling 877-677-3456 or online.
Doors open at 7pm for the 8pm show.