WAR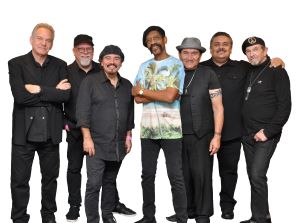 Saturday, March 12, 2022 – 8pm

Multi-platinum-selling WAR, the original street band, has been sharing its timeless music and message of brotherhood and harmony for almost 5 decades before millions across the globe.

WAR has sold more than 50 million records since its formation to include ten Billboard Top 10 hits. Top 40 hits include the timeless classics "Why Can't We Be Friends," "Low Rider," "The World Is A Ghetto," "The Cisco Kid," and many more.

Fifteen of WAR's albums have achieved Gold Status in the US and many of them have gone multi-platinum, including "Eric Burdon Declares War" (1970), "Black Man's Burdon" (1971), "All Day Music" (1971), "WAR Live" (1972), "The World Is A Ghetto" (1972), "Deliver The Word" (1973), "Why Can't We Be Friends" (1975), "Greatest Hits" (1976), "Platinum Jazz" (1976), "Galaxy" (1977), "The Music Band" (1979), and "Best of WAR and More" (1986).

Former President, Barack Obama, placed "All Day Music" on his 2020 summer playlist, just the latest example of WAR's influence being felt in modern times. With samples and nods by artists such as Kendrick Lamar, Flo-Rida, Thomas Rhett, Tupac, Smash Mouth, Janet Jackson, Dave Matthews, Korn, and countless others, it is evident that WAR remains a household name.

More recently, LA Weekly declared WAR in the top 10 concerts of 2018. The group has been honored numerous times by the City of Los Angeles for its community involvement, as well as many other communities throughout the world.

WAR has not only sealed their status as a household name, but has also proven that their music and messages continue to be as relevant as ever today as they have always been.

Tickets are $65, $45 and $30 plus tax and an online/phone ticketing fee (this fee is waived when tickets are purchased in the Gift Shop). Tickets in the ADA section are for patrons with mobility disabilities and up to three companions. If companion seating is not available because the ADA section is sold out, RCGR will offer other seats as close as possible to the accessible seat, if available, at the purchase price of the other section. Tickets are on sale in the Gift Shop, by calling 877-677-3456 or online.

Doors open at 7pm for the 8pm show.