15th Anniversary Celebration ft Rubix Kube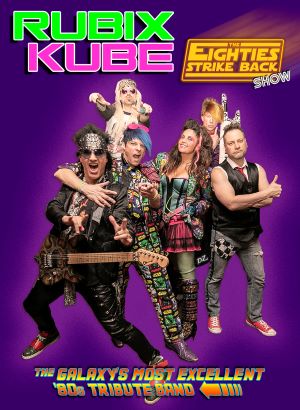 Pool Courtyard

Saturday August 28, 2021 – 8pm

RUBIX KUBE has taken the universe by storm as the most excellent 80's tribute band of all time! Their one-of-a-kind "THE EIGHTIES STRIKE BACK Show" is performed across the planet, and to galaxies far . . far away. The KUBE is more than just a cover band – they're a totally awesome, true 80's Experience. Every super-charged show takes it to the max and guarantees to set the roof on fire and burn down the house. (Metaphorically speaking of course.)

RUBIX KUBE is led by a male and female dynamic duo of karma chameleons, able to transform in the-blink-of-an-eye into the voice and character of any 80's icon. It's like Madonna, Michael Jackson, Cher, Prince, Devo, Bon Jovi, Guns N' Roses, and more are teleported right before your eyes on the same stage, in one concert! Their supporting sidekicks are some of the most awesome and versatile musicians around. All are decked out in vibrant, vintage 80's threads and with enough hairspray to take down Freddy Krueger, The Terminator, Beetlejuice, and all The Gremlins at once. The KUBE is able to crank out Pop, Rock, New Wave, Dance and Hair Metal hits from the decade of decadence, and perform them just like the originals - yet with their own gnarly twist!

Prepare for the most bodacious, totally rad and ultimate time-warp at "THE EIGHTIES STRIKE BACK Show" starring RUBIX KUBE!!

Immediately following the concert stick around for a fireworks celebration!

General admission standing room only tickets are $20 plus tax and an online/phone ticketing fee (this fee is waived when tickets are purchased in the Gift Shop). Tickets are on sale in the Gift Shop, by calling 877-677-3456 or online.

This event will be held in the Pool Courtyard. Doors open at 7pm with the event beginning at 8pm.

No lawn chairs or bag chairs allowed. Blankets only.

No outside coolers or beverages allowed. No glassware allowed in the pool area. Per the Iowa Smokefree Act, smoking is not allowed in the pool courtyard. Guests must smoke in the designated smoking area only.

Swimming is not allowed during the event. The pool closes at 5pm.

In case of rain, the event will be moved indoors to the Event Center.

This event is open to guests 21 & older only.