Dinner with The Cleverlys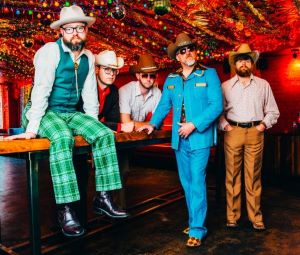 Friday, January 22, 2021 – 7pm
Our Winter Fest Entertainment Series continues! A chance to get out of the house for a date night with your significant other or bestie in a fun, safe, socially distanced environment!
Indulge in some of your favorite comfort foods while enjoying the one-of-a-kind comedy/music stylings of
The Cleverlys
. Your event ticket gets you access to five exciting food stations, six drink tickets (three per person) that you can redeem at the bar and a top notch concert featuring The Cleverlys.
The Entertainment:
The Cleverlys are a one-of-a-kind comedy/music blend coming from the remote part of the Ozark Mountains, near Cane Spur, Arkansas.
Digger Cleverly, along with his nephews Ricky Lloyd, Sock, DVD and Cub, make up The Cleverlys. They have traveled the globe, if the globe only consisted of the United States, performing at music venues and some of the nation's largest festivals like Stagecoach, Telluride, CMA Music Fest and even the Grand Ole Opry.
The New York Times wrote, "If Earl Scruggs, Dolly Parton, and Spinal Tap spawned a litter of puppies, it would be the Cleverlys."
Don't be fooled by this faux-family band – they are all accomplished musicians putting their unique bluegrass spin on cover songs from any genre. The Cleverlys' set list includes genius arrangements of tunes like Psy's "Gangnam Style," a medley of Blackstreet's "No Diggity," and Flo Rida's "Low" that recently went viral on Facebook, with over 11 million views from a local TV appearance.
Rolling Stone Magazine says Digger's "out-of-date eyeglasses are as thick as his hillbilly accent, but whose comic sensibilities are a hilariously off-kilter hybrid of Homer & Jethro and The Office."
The Menu*:
Station 1 – Buffalo Chicken Mac & Cheese
Station 2 – Smoked Pork Belly Slider with Apple Cider Slaw and a side of Homemade Potato Chips
Station 3 – Grilled Teriyaki Beef Kabobs with Rice Noodle Salad in Sesame Dressing
Station 4 – Honey Garlic Dijon Marinated Grilled Pork Tenderloin on a Pretzel Roll with Crispy Onion Strings
Station 5 – Caramel Apple Cheesecake
Space is limited. Purchase your ticket at the Gift Shop or online.
Cost per table for two is $150 ($75/person) plus an online/phone ticketing fee (this fee is waived when tickets are purchased in person in the Gift Shop). Tax and gratuity are included. No individual tickets will be sold. Each ticket gets you a table for two people.
Seating is general admission, and all tables will be set to follow proper social distancing guidelines.
All guests must be 21 or older.
This event will be held in the Event Center. Seating begins at 6:30pm with the dinner and concert at 7pm.
*Please note that there are no substitutions allowed with the menu. No changes may be made for any allergy or dietary restriction needs.