Ronnie Milsap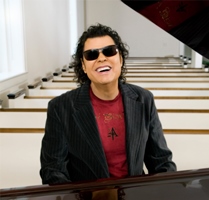 RESCHEDULED - Saturday, July 27, 2019 - 8PM

Rescheduled from original date of Friday, May 17, 2019


UPDATE: The Ronnie Milsap show originally scheduled for Friday, May 17th has been moved to Saturday, July 27th at 8pm due to Ronnie feeling under the weather for the originally scheduled date in May. All tickets purchased will be honored at this new date! No exchanges are needed for guests who have already purchased tickets.

The refund request period for those guests who purchased tickets for the May performance has now closed. Tickets may no longer be refunded or exchanged. All sales are final.


Ronnie Milsap signed with New York-based Scepter Records in 1965 where he scored an R&B Top 5 with the Ashford and Simpson-penned "Never Had It So Good." While at Scepter, Milsap shared concert stages with James Brown, Stevie Wonder and Ray Charles, who encouraged the young man to apply himself to music. In 1970, Milsap found success on the pop charts with "Loving You Is a Natural Thing." He recorded and released his eponymous debut album – produced by Dan Penn -- in 1971.

In 1972, Milsap was performing at the Whiskey A-Go-Go where Charley Pride happened to be in the audience. Impressed with his soulful singing style, Pride encouraged Milsap to focus on Country Music. Moving to Nashville later that year, he began working with Pride's manager, Jack D. Johnson. A year later, he signed with RCA Records and later that same year released his first Country single, the Top10 "I Hate You."

In 1974, Milsap scored two No. 1s: "Pure Love" and "Please Don't Tell Me How the Story Ends," which won his first Grammy. Another No. 1 followed the next year with "Daydreams About Night Things."

In 1976, Milsap established himself solidly as one of Country Music's biggest stars. A string of seven No. 1 hits in a row, including "(I'm a) Stand By My Woman Man," "What a Difference You've Made in My Life," and "It Was Almost Like a Song," which was the most successful single of the 1970s. "Song" was the singer's first crossover hit, peaking No. 7 on the adult contemporary chart; it paved the way for Milsap to be named Billboard's Artist of the Year (in any genre) in 1976.

This string of hits also kicked off a remarkable run in American pop music. With songs "(There's) No Getting Over Me," "I Wouldn't Have Missed It For the World," "Any Day Now," "Stranger In My House," "Lost in the Fifties Tonight," "She Keeps the Home Fires Burning," "Snap Your Fingers," and "Where Do the Nights Go," Milsap did not leave the Top 10 for 16 years.

Milsap also received myriad awards and accolades during this period. He won four CMA Album of the Year Awards (1975, 1977, 1978, and 1986), three CMA Male Vocalist of the Year trophies (1974, 1976, and 1977), and the coveted CMA Entertainer of the Year Award (1977). In addition, he won five Grammys for Best Male Country Vocal performance (1975, 1977, 1982, 1986, and 1987) and one Grammy for Best Country Collaboration with Vocals in 1988 for the Kenny Rogers duet "Make No Mistake, She's Mine."

With 40 No. 1 hits and more than 35 million albums sold, Ronnie Milsap remains one of Country' Music's most successful and beloved crossover artists. At 75, he continues to tour the country, playing his music for multiple generations of music lovers.

Tickets are $55, $35 and $20 plus tax and an online/phone ticketing fee (this fee is waived when tickets are purchased in the Gift Shop). Tickets in the ADA section are for patrons with mobility disabilities and up to three companions. If companion seating is not available because the ADA section is sold out, RCGR will offer other seats as close as possible to the accessible seat, if available, at the purchase price of the other section. Tickets are on sale in the Gift Shop, by calling 877-677-3456 or online.

Doors open at 7pm for the 8pm show.