The Marshall Tucker Band w/ Pure Prairie League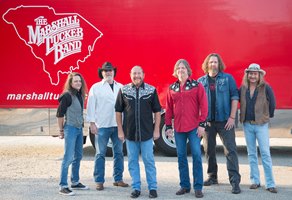 Friday, June 24, 2022
Ticket holders who wish to attend on the new date will need to keep their tickets as they are valid for the new date. If you wish to receive a refund, please e-mail tickets@riversidecasinoandresort.com to request no later than January 31, 2022.
All tickets purchased that have not previously been cancelled and refunded by request of the ticket holder will be honored at this new date! No exchanges are needed for guests who have already purchased tickets. If your tickets are still being held at will call in our Gift Shop, they will remain there. You do not need to do anything or contact anyone. Your tickets continue to be held safely at our will call.
Whenever you drop that proverbial quarter into the virtual jukebox of songs that always manage to reach down and touch your soul the exact moment you cue them up, you inevitably find certain artists have a deeper resonance than others when it comes to providing the soundtrack that mirrors the highs and lows of your own life. The
Marshall Tucker Band
is one such group that continues to have a profound level of impact on successive generations of listeners who've been searchin' for a rainbow and found it perfectly represented by this tried-and-true Southern institution for over five decades. "I've been in tune with how music can make you feel, right from when I was first in the crib," observes lead vocalist and bandleader Doug Gray, who's been fronting the MTB since the very beginning.
The Marshall Tucker Band came together as a young, hungry, and quite driven six-piece outfit in Spartanburg, South Carolina in 1972, having duly baptized themselves with the name of a blind piano tuner after they found it inscribed on a key to their original rehearsal space — and they've been in tune with tearing it up on live stages both big and small all across the globe ever since. Plus, the band's mighty music catalog, consisting of more than 20 studio albums and a score of live releases, has racked up multi-platinum album sales many times over in its wake. A typically rich MTB setlist is bubbling over with a healthy dose of indelible hits like the heartfelt singalong "Heard It in a Love Song," the insistent pleading of "Can't You See" (the signature tune of MTB's late co-founding lead guitarist and then-principal songwriter Toy Caldwell), the testifying travelogue warning of "Fire on the Mountain," the wanderlust gallop of "Long Hard Ride," and the unquenchable yearning pitch of "Ramblin'," to name but a few.
Indeed, the secret ingredient to the ongoing success of The Marshall Tucker Band can be found within a cauldron of musical styles that mixes together equal parts rock, blues, jazz, country, soul, and bluegrass. In essence, it's this inimitable down-home sonic bouillabaisse that helped make the MTB the first truly progressive Southern band to grace this nation's airwaves
From their beginnings in mid-Sixties Ohio as a group of friends playing cover tunes to the present-day unit featuring founding member/pedal-steel innovator John David Call, veteran bassist Mike Reilly, propulsive drummer Scott Thompson and guitar ace Donnie Clark,
Pure Prairie League
continues to embellish the rich 43-year history of one of Country-Rock's pioneering forces.
Their eponymous first album has been hailed as a "major early influence in the emerging popularity of Country-Rock music". Their second effort, the multi-platinum "Bustin' Out" brought us the Craig Fuller-penned classic "Amie", along with other gems of the genre. With "Two Lane Highway", nine more albums and countless shows, a legacy has been forged and enriched during the '70s and 80's, highlighting contributions from several noteworthy members, including original co-founder George Ed Powell, Cincinnati's legendary Goshorn Brothers, Country Hall of Famers Gary Burr and Vince Gill, award-winning writer Jeff Wilson (3 Top-20 singles) and a host of other guest appearances from Chet Atkins, Johnny Gimble, Emmy Lou Harris, David Sanborn, Eagle Don Felder, Nicolette Larson, and many more.
Tickets are $60, $45 and $30 plus tax and an online/phone ticketing fee (this fee is waived when tickets are purchased in the Gift Shop). Tickets in the ADA section are for patrons with mobility disabilities and up to three companions. If companion seating is not available because the ADA section is sold out, RCGR will offer other seats as close as possible to the accessible seat, if available, at the purchase price of the other section. Tickets are on sale in the Gift Shop, by calling 877-677-3456 or online.
Doors open at 7pm for the 8pm show.