Jay and Silent Bob Get Old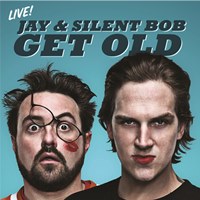 Friday, October 25, 2019 – 8pm

NO PHOTOGRAPHY OR VIDEO OF ANY KIND ALLOWED. THIS INCLUDES CELL PHONE PHOTOS OR VIDEO. NO CAMERAS ALLOWED IN VENUE. NO IPADS. NO GO PROS.

The hilarious duo Jay & Silent Bob are back. Film icons Kevin Smith and Jason Mewes made history and fans all over the world with the characters Jay & Silent Bob from the movies Clerks, Mallrats, Chasing Amy, Dogma, Jay and Silent Bob Strike Back and Clerks 2. Now you can see them live in their show, Jay & Silent Bob Get Old. This is a sometimes touching, always hilarious, look at what happens when two people grow up in Hollywood's gaze and they'll do what they do best – tell stories.

As a special bonus, after the conversation between Kevin Smith and Jason Mewes, there will be a screening of their new movie, Jay and Silent Bob Reboot, for all guests who'd like to stay!

Tickets are $65, $50 and $30 plus tax and an online/phone ticketing fee (this fee is waived when tickets are purchased in the Gift Shop). Tickets in the ADA section are for patrons with mobility disabilities and up to three companions. If companion seating is not available because the ADA section is sold out, RCGR will offer other seats as close as possible to the accessible seat, if available, at the purchase price of the other section. Tickets are on sale in the Gift Shop, by calling 877-677-3456 or online.

Please note that this show is open to all ages, but it may contain strong language.

Doors open at 7pm for the 8pm show.