Billy Idol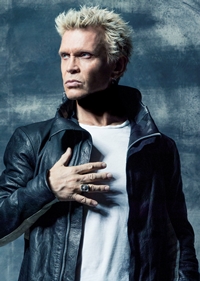 Friday, July 5, 2019 – 8:30pm

Outdoor Stage
Billy Idol was an early architect of the sound, style, and fury of punk rock. His lip-curling sneer and fist-pumping persona vaulted him into the mainstream as one of MTV's first megastars, making him one of the most recognizable faces in pop music, while selling out arenas everywhere he played. He has sold 40 million albums while scoring numerous platinum albums worldwide, nine top forty singles in the U.S. and 10 in the U.K. including "Dancing With Myself, "White Wedding," "Rebel Yell," "Mony Mony," "Eyes Without A Face," "Flesh For Fantasy," and "Cradle Of Love."
Billy was responsible for some of punk rock's most memorable, literate, and evocative moments and created a pioneering new sound by bringing the spirit of '77 to the dance floor, going on to fashion an immediately identifiable musical blueprint that integrates club-land throb, rockabilly desperation, and rock 'n roll decadence.
Idol returned to the spotlight in the fall of 2014 with two high profile releases that marked the latest chapter in the long and remarkable story of a musician, an inventor, a survivor, a father, a son, a man who returned from the brink, and a rebel whose yells made the mainstream sit up and pay attention.
Idol's New York Times bestselling autobiography Dancing With Myself is an electric, intelligent, brutally honest and entirely self-written account of Billy Idol's journey to fame, from his early days as front man of the pioneering UK punk band Generation X to a long and often decadent life lived loving sex, drugs, rock 'n roll, and motorcycles.
Kings & Queens of the Underground was Billy's first album of new material in nearly a decade. The album's palette, which includes incredible contributions from Idol's longtime collaborator and lead guitarist Steve Stevens, will be instantly familiar to lovers of classic Billy Idol, while announcing a firm step into the future. Produced by Trevor Horn (with two tracks co-written and produced by 2017 Grammy Producer of The Year winner Greg Kurstin), it is full of thumping, cinematic songs about sin, redemption and the love of rock 'n roll.
Tickets are $85, $60 or $35 plus tax and an online/phone ticketing fee (this fee is waived when tickets are purchased in the Gift Shop). Tickets are on sale in the Gift Shop, by calling 877-677-3456 or online.
VIP upgrade packages are available at:
https://billyidolvip.com/
. This package does not include a ticket to the show. Tickets must be purchased separately.
Gates open at 7pm and the concert starts at 8:30pm. Reserved seating is provided in Tier 1. Tier 2 will be general admission within the section with chairs provided. Guests in the Tier 3 general admission section are welcome to bring a lawn chair. Seating is not provided in Tier 3. No outside coolers or beverages allowed. Per the Iowa Smokefree Act, smoking is not allowed on the concert grounds. Concert open to all ages.