The Sixties Sound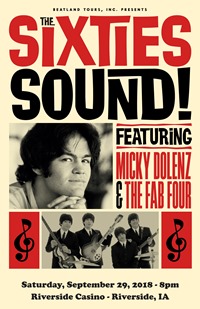 Starring

Micky Dolenz

of The Monkees and

The Fab Four

- The Ultimate TributeSaturday, September 29, 2018 - 8pm Show
UPDATE:
Due to recent health issues,
Mark Lindsay
will not be able to perform this Saturday at The Sixties Sound show. We wish him a very speedy recovery. Be assured that Micky Dolenz and The Fab Four are still going to put on a show for you that night that you won't soon forget. We look forward to seeing you there. All tickets purchased for the original Sixties Sound lineup will be honored at the performance this Saturday. No exchanges are needed for guests who have already purchased tickets.
Any guests who purchased tickets for The Sixties Sound including Mark Lindsay who no longer want to attend the performance now that he cannot perform as part of the show may receive a refund up until the day of the show. In order to receive a refund, tickets must be brought to the point of purchase. Refunds cannot be processed without the ticket in hand. No ticket refunds will be honored after the Sixties Sound concert on Saturday.
All Sixties Sound ticket refunds must be requested by 8pm on Saturday, September 29th.Micky Dolenz
IS the voice of The Monkees. The unmistakable performer that moved a generation and led this pop culture phenomena to a dozen Top 20 singles, four #1 albums and two Emmy Awards. Having entertained audiences his entire life, Micky brings a one-of-a-kind presence to the stage, drawing on his background in television, film broadcasting and Broadway.
If you want to experience the best Beatles tribute ever, you won't want to miss
The Fab Four -The Ultimate Tribute
. The Emmy Award Winning Fab Four is elevated far above every other Beatles Tribute due to their precise attention to detail. With uncanny, note-for-note live renditions of Beatles' classics such as "Can't Buy Me Love," "Yesterday," "A Day In The Life," "Twist And Shout," "Here Comes The Sun," and "Hey Jude", the Fab Four will make you think you are watching the real thing. This loving tribute to the Beatles has amazed audiences in countries around the world, including Japan, Australia, France, Hong Kong, The United Kingdom, Germany, Mexico and Brazil.
Tickets are $65, $55, $35 & $20 plus tax and an online/phone ticketing fee (this fee is waived when tickets are purchased in the Gift Shop). Tickets in the ADA section are for patrons with mobility disabilities and up to three companions. If companion seating is not available because the ADA section is sold out, RCGR will offer other seats as close as possible to the accessible seat, if available, at the purchase price of the other section. Tickets are on sale in the Gift Shop, by calling 877-677-3456 or online.
Doors open at 7pm for the 8pm show.