Eric Paslay and Maddie & Tae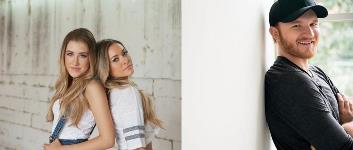 Saturday, February 10, 2018 - 8pm

NO FLASH PHOTOGRAPHY

EMI Records Nashville breakout country artist, Eric Paslay, delivers a powerful punch as a renowned, Platinum-selling, hit songwriter and dynamic performer. Paslay has celebrated five No. 1 hits including "Even If It Breaks Your Heart" (Eli Young Band), "Barefoot Blue Jean Night" (Jake Owen), "Angel Eyes" (Love & Theft), "Rewind" (Rascal Flatts) and "Friday Night," the smash lead single from his critically acclaimed self-titled debut album. The Temple, Texas native earned nominations for GRAMMY Best Country Song, ACM Song of the Year and CMA Song of The Year for "Even If It Breaks Your Heart" in 2013 and earned his first GRAMMY nomination as an artist in 2016 for Best Country Duo/Group Performance for "The Driver"- a collaboration with friends Charles Kelley and Dierks Bentley. Most recently he was honored with an ACM Song of the Year nomination for "She Don't Love You" at the 2016 ACMs in Las Vegas. A true artist's artist, USA Today calls Paslay "flat out-brilliant" and American Songwriter names him an influencer of country music.

Maddie Marlow and Taylor Dye never intended to hit a nerve when they sat down and wrote "Girl In A Country Song." Merely expressing their own reaction to the reductive tilt of today's BroCountry, the pair and co-writer Aaron Schwerz shamelessly skewered its Xeroxed stereotypes; "Girl" was as much a lark as it was ever "meaningful social commentary."

Yet the response was so instant and intense, there was no denying it. NPR's "All Things Considered" cited Maddie & Tae for "turning heads in different ways with their very first single," and Rolling Stone cited them as one of "10 New Artists You Need to Know."

Like a lot of young women, Maddie & Tae grew up on the Dixie Chicks' full-tilt acoustica. Both dreamers who knew what they wanted early, the pair met at 15 through their vocal coach and came to Nashville for "a summer camp publishing deal." They met Big Machine's SVP of A&R Allison Jones – and fate stepped in. In 2013, it was decided. The pair relocated to Nashville – and never looked back. Publishing deal in hand, they were immersed in creativity, seeking a voice that was both authentic and truly their own. The duo knew by speaking their truth, their uniqueness would set them apart.

Even in the hardcore throw-down, all bucking backbeat and bee-sting guitar, there is a romp and a plucky audacity that shows these young ladies have no interest in letting anything break their spirits. Just as importantly, they fear no fiddles, no banjos, no steel guitars, even as they have bulked up drums that crash and guitars that slash and sting like the big boys.

While Rolling Stone observed, "Cheekily appropriating much of the sound of modern country," there is so much more to Maddie & Tae than that. Independent thinkers, strong livers, hardcore dreamers, the pair are reaching for the sky – and winking at us all while they do it.

Tickets are $60, $45 & $30 plus tax and an online/phone ticketing fee (this fee is waived when tickets are purchased in the Gift Shop). Tickets in the ADA section are for patrons with mobility disabilities and up to three companions. If companion seating is not available because the ADA section is sold out, RCGR will offer other seats as close as possible to the accessible seat, if available, at the purchase price of the other section. Tickets are on sale in the Gift Shop, by calling 877-677-3456 or online.

Hotel packages are available by calling 877-677-3456. Packages are $310 plus tax and include a one night stay in a deluxe king or double queen room, two tickets to the show and two dinners at Robert's Buffet. There are a limited number of hotel packages available.

Doors open at 7pm for the 8pm show.