98° at Christmas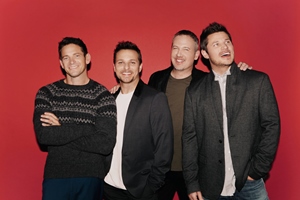 Saturday, November 11, 2017 - 8pm Show

98° is hot. In five short years — from 1997 to 2002 — they'd sold a staggering 10 million records, scored a chart-topping single, "Thank God I Found You," with Mariah Carey and Joe, and collaborated with their collective idol, Stevie Wonder, on "True to Your Heart," for the 1998 animated Disney film, Mulan. Their four-million-selling album, 98° and Rising, spawned the top-5 favorites "Because of You," "I Do," and "The Hardest Thing," while 2000's Revelation, which sold two million copies, peaked at number 2 on the Billboard 200 and yielded a trio of hits, "Give Me Just One Night (Una Noche)," "My Everything" and "The Way You Want Me To."

The quartet will soon release their first full-length album in 4 years, Let It Snow. Recorded this past July in Los Angeles, the album features the group's signature R&B-tinged, four-part harmonies. Let It Snow is their second Christmas title, their critically-acclaimed This Christmas was a million-selling, multi-platinum album in 1999.

Along with beloved standards like "Have Yourself A Merry Little Christmas," "Let It Snow! Let It Snow! Let It Snow!", and "Please Come Home For Christmas," the 12-song collection includes their take on "What Christmas Means To Me," the standard that was popularized by Wonder.

The band will be embarking on a 31 city tour kicking off on November 10 and running through December 23.

Might Let It Snow lead to future 98° albums? Time will tell, but Timmons certainly hopes so. "The best has yet to come out of this group," he says. "After all these years, ultimately, it's all about the way we sound when we sing together. As you get older, that means everything: to be able to strip away all of that other stuff and get back to why we're doing this in the first place."

Tickets are $65, $50 & $35 plus tax and an online/phone ticketing fee (this fee is waived when tickets are purchased in the Gift Shop). Tickets in the ADA section are for patrons with mobility disabilities and up to three companions. If companion seating is not available because the ADA section is sold out, RCGR will offer other seats as close as possible to the accessible seat, if available, at the purchase price of the other section. Tickets are on sale in the Gift Shop, by calling 877-677-3456 or online.

Doors open at 7pm for the 8pm show.

Please be aware that there will be some enhanced Security measures in place for this performance. The following items are prohibited from the venue for the 98° at Christmas performance:

Any professional cameras, large cameras with detachable lenses, video and/or audio equipment
Any item that can be used as a weapon
Fireworks or any other kind of explosive
Pets (except service animals)
Glass containers of any kind
Outside alcohol
Illegal substances (including medical marijuana)
Flammable products or materials and sprays
Drug paraphernalia
Instruments
Large bags/purses or backpacks
Water guns, water balloons, and/or other kind of water projectile
Focus light beam devices of any kind, including laser pointers.
Any item that can be used as a means to disturb the peace, endanger the security of the crowd and/or inflict damage to people and goods

Any person attempting to bring in an item included on the list above will be asked to return said item to their vehicle and/or hotel room before being allowed to enter the venue. We appreciate your cooperation in helping us make this a safe environment for all!