Wallflowers and Better Than Ezra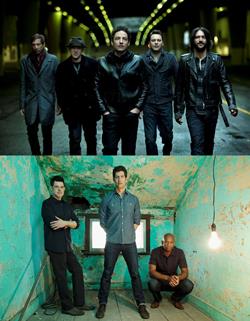 Friday, August 11, 2017 - 8pm Show

The Wallflowers formed in 1989, and in 1992 released their classic self-titled debut album, featuring one of the greatest songs of social commentary, "Asleep at the Wheel." From there they skyrocketed with 1996's Bringing Down the Horse, which featured hits like "One Headlight," went quadruple platinum, won two Grammys, and was praised by everyone from Bruce Springsteen to Tom Petty.

The Wallflowers went on to release three more records between 2000 and 2005, absolute rock and roll perfection, and more radio smashes like "Murder 101", a duet with Elvis Costello, "Sleepwalker", and "Here He Comes". You'd be beyond lucky to have a career like this, but how do you keep it going? How do you avoid repeating yourself?

The odd thing about rock and roll is, with all the bang and rip and brag and cuss… it gets old after a while. Most platinum-selling artists end up chasing hit after hit, feeling like they're only as good as their last single, leaving no room for depth. The Wallflowers are different, they had hits, huge hits, etc, but they don't chase it. They make brilliant albums in their own time, and the success comes because the songs are that good.

The band took a long hiatus over five years to pursue other projects. The current Wallflowers lineup includes original members: keyboardist Rami Jaffee, who has spent the past several years recording and touring with The Foo Fighters, garnishing a few more Grammys as well as continuing his regular session work, bass player Greg Richling who has been busy producing many records in the U.S. and abroad, and Jakob Dylan, who debuted a pair of solo albums, 2008's "Seein' Things" and 2010's "Women and Country." After the hiatus, the band got back together, ready to go, trimmed, tight, and at their perfect fighting weight and put out their latest album 2012's Glad All Over. Joining original members Rami, Greg and Jakob is longtime guitarist Stuart Mathis who has been keeping busy during hiatus working with the likes of Chris Isaak, Lucinda Williams and Sara Bareilles; and new drummer Jack Irons (Red Hot Chili Peppers, Pearl Jam) who has put out several highly respected solo albums in recent years.

Before their omnipresent 1995 single "Good" hit No. 1, before their debut album Deluxe went double-platinum, before popular shows such as Desperate Housewives licensed their song "Juicy," before Taylor Swift attested to their timeless appeal by covering their track "Breathless" — New Orleans' Better Than Ezra was a pop-rock act paying its dues, traveling from town to town in a ramshackle van. Over two decades after the band formed, that vigilance still resonates strongly with the trio, who were finally rewarded after seven years of stubbornly chasing their dreams. "This band," notes bassist Tom Drummond, "has never been handed anything."

Better Than Ezra has always possessed an uncanny ability to deliver a sticky melody. It just took time for the world to figure this out. As testament to frontman-songwriter Kevin Griffin's pop prowess, he's become an in-demand songwriter and producer across an array of genres (from Sugarland's "Stuck Like Glue" to Howie Day's "Collide"). While penning tracks for other artists, Griffin found himself squirreling away compositions he felt best belonged to the Better Than Ezra canon. The result of that is All Together Now, a collection of crisp, electro-pop inspired songs released in 2014. Themed around chance, the album spins out from the serendipity-marveling "Crazy Lucky" into reflective, if relatable, fare such as the vibratory, folk-inflected "Insane," the falsetto-kissed "One Heart Beating," and the more sprawling "The Great Unknown." Griffin reflects fondly on Better Than Ezra's fateful formation and lasting appeal: "I'm more and more fascinated by how so many things we consider bedrock in our lives —certainties, immutable things, everything we love and cherish — are in fact held together by these invisible, gossamer strings."

Griffin has a theory as to why resilience is wired into his band's DNA. "We've always just been able to communicate," he says, adding, "and Better Than Ezra is bigger than just a band now." He's not exaggerating: With the Better Than Ezra Foundation (www.BTEFoundation.org), the band give back to their native New Orleans with charity ventures to benefit everything from coastal restoration to after school programs for underprivileged kids.

Tickets are $65, $50 & $35 plus tax and an online/phone ticketing fee (this fee is waived when tickets are purchased in the Gift Shop). Tickets in the ADA section are for patrons with mobility disabilities and up to three companions. If companion seating is not available because the ADA section is sold out, RCGR will offer other seats as close as possible to the accessible seat, if available, at the purchase price of the other section. Tickets are on sale in the Gift Shop, by calling 877-677-3456 or online.

Hotel packages are available by calling 877-677-3456. Packages are $290 plus tax and include a one night stay in a deluxe king or double queen room, two tickets to the show and two dinners at Robert's Buffet. There are a limited number of hotel packages available.

Doors open at 7pm for the 8pm show.