Eli Young Band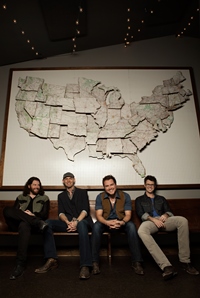 Saturday, April 8, 2017 - 8pm Show

Somewhere in the midst of 10,000 towns, along a lonely highway between packing clubs in their native Texas years ago and more recently performing stadiums on one of country music's hottest tours, the Eli Young Band became more than a band. They became a brotherhood. Camaraderie and creativity fused into an intoxicating cocktail that has propelled the talented foursome to the vanguard of contemporary country music.
With three No. 1 hits under their belt as well as a Grammy nomination and an Academy of Country Music Award for Song of the Year for their hit "Crazy Girl," the Eli Young Band approached their second Republic Nashville album, 10,000 Towns, with a sense of confidence and purpose. "We were genuinely excited about making this new record," says bassist Jon Jones. "People talk about the sophomore record being really tough to make and in a lot of ways this felt like our sophomore record even though it's technically our fifth record as a band."
With the 2011 release of their Republic Nashville debut, Life at Best, the Eli Young Band scored their first No. 1 hit with "Crazy Girl." The double platinum single became the # 1 most played country song of the year on Billboard's 2011 year end chart and earned them the ACM Award for Song of the Year. The band's next single, "Even If It Breaks Your Heart," became their second No. 1 and was certified platinum. It earned the band Grammy nods for Best Duo/Group Performance and for Best Country Song as well as Single of the Year and Song of the Year nominations from both the CMA and ACM.
After years of paying dues and gaining experience, the Eli Young Band is at the top of their game. While they started playing in tiny clubs, they've graduated to packing out theatres and mid-size venues as a headliner. Their road dog reputation helped them to earn an opening slot playing stadiums on the Kenny Chesney tour. All those miles on the road and visits to 10,000 towns coalesce to make their new album the band's strongest effort yet. "At this point in our personal lives and in our career, we're all in really good places," Thompson says. "We're all happy in our personal lives, so it shows on this record; it's fun."
Their meticulous approach to writing and finding the very best songs for the new album paid off quickly as the lead single, "Drunk Last Night," became the band's third No. 1 hit. "We loved that song from the first 30 seconds of hearing it," Eli says of the Josh Osborne/Laura Veltz penned song. "With that title, you read it and you think it's going to be a certain type of song and then you hear the song and it's not what you thought it would be at all. The songwriters, Josh and Laura, did a really good job of messing with our brains. People were drawn to the idea that it's not the same ole same ole drinking song. That was intriguing."
The Eli Young Band has worked hard to get to this point and is enjoying their current success the same way they earned it---TOGETHER. "We've surpassed the friend mark now and it's more like brothers. It's really kind of a blood bond between the four of us," Jones says. "We set out to do this as a career and made the commitment to each other a long time ago and here we are 14 years later. None of us can imagine doing anything else."
Tickets are $50, $40 & $25 plus tax and an online/phone ticketing fee (this fee is waived when tickets are purchased in the Gift Shop). Tickets in the ADA section are for patrons with mobility disabilities and up to three companions. If companion seating is not available because the ADA section is sold out, RCGR will offer other seats as close as possible to the accessible seat, if available, at the purchase price of the other section. Tickets are on sale in the Gift Shop and online.
Hotel packages are available by calling 877-677-3456. Packages are $285 plus tax and include a one night stay in a deluxe king or double queen room, two tickets to the show and two dinners at Robert's Buffet. There are a limited number of hotel packages available.
Doors open at 7pm for the 8pm show.