Jim Breuer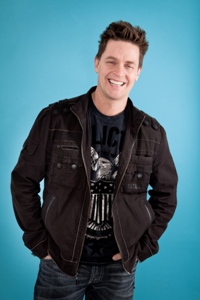 Friday, October 23, 2015 - 8pm show

NO CAMERAS ALLOWED

Opener: Rich Aronovitch
With over 20 years of stand-up comedy experience, Jim Breuer remains one of today's top entertainers and continues to win over audiences with his off-the-wall humor and lovable personality. Named one of Comedy Central's "100 Greatest Stand-Ups of All Time," Breuer is one of the most recognizable comedians in the business, known for his charismatic stage antics, dead-on impressions, and family-friendly stand-up. In addition to keeping busy on his current comedy tour, Breuer can be heard on his weekly Sirius/XM Radio show "Fridays with Breuer," featuring guests such as Jerry Seinfeld, Chris Rock, Dennis Leary, and Jeff Foxworthy.
Breuer's big break came in 1995 when he joined the cast of NBC's legendary "Saturday Night Live." During his four years on "SNL," Breuer quickly became a fan-favorite for his original character "Goat Boy" and his dead-on impressions of actor Joe Pesci.
Following his success on "SNL," Breuer starred alongside Dave Chappelle in the cult favorite film "Half Baked." He has since appeared in the popular films "Zookeeper," "Dick," "Titan A.E." and "Beer League."
In 2008, Breuer set out for his "Breuniversity Tour" with his 85-year-old father and a film crew. The footage that was captured blended together to create "The Jim Breuer Road Journals," which showcased what life is like on the road with a comedian and his father. Videos from that tour also sparked the making of his documentary "More Than Me," which was shown at the 2009 Montreal Film Festival. In July of 2009, Breuer's one-hour Comedy Central special "Let's Clear the Air" premiered with hilarious topics that included what "success" really is, his SNL days and life with his elderly parents, his wife and his three daughters. In 2011, Breuer embarked on a national tour with three of the country's top comedians, Dave Attell, Bill Burr, and Jim Norton, for "The Anti-Social Network" tour. That same year, Breuer's acclaimed autobiography, "I'm Not High: (But I've Got a Lot of Crazy Stories about Life as a Goat Boy, a Dad, and a Spiritual Warrior)," was released on paperback. In the memoir, Breuer sheds light on his early struggles, his rise to fame and the many lessons he's learned along in an extremely funny, yet personal and touching way that fans have never seen before. Most recently, Breuer taped his latest one hour comedy special "All Grown Up" at the Gramercy Theatre in New York.
Tickets are $45, $35 or $20 plus tax and an online/phone ticketing fee (this fee is waived when tickets are purchased in the Gift Shop). Tickets in the ADA section are for patrons with mobility disabilities and up to three companions. If companion seating is not available because the ADA section is sold out, RCGR will offer other seats as close as possible to the accessible seat, if available, at the purchase price of the other section. Tickets are on sale in the Gift Shop and online.
Hotel packages are available by calling 877-677-3456. Packages are $270 and include a one night stay in a deluxe king or double queen room, two tickets to the show and two dinners at Robert's Buffet. There are a limited number of hotel packages available.
Doors open at 7pm for the 8pm show.