Tesla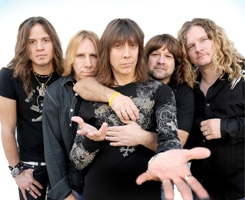 TESLA is a multi-platinum-selling rock band from Northern California known for their melodic songs and down to earth appeal. Thanks to their die-hard, loyal fan base and their younger generation offspring, TESLA continues to tour to sold-out crowds around the world.

TESLA's line-up consists of four of its original members: vocalist Jeff Keith, guitarist Frank Hannon, bassist Brian Wheat, and drummer Troy Luccketta and new guitarist Dave Rude who has brought a new energy and creativity to the band.

TESLA were formed in Sacramento, CA, in 1985. After playing several showcases in Los Angeles, TESLA quickly scored a deal with Geffen and released their debut album, Mechanical Resonance, in 1986; it produced the hard rock hits and crowd favorite, "Modern Day Cowboy" and "Little Suzi." Mechanical Resonance reached the Top 40 on the album charts, and eventually went platinum.

It was the follow-up, 1989's, The Great Radio Controversy which truly broke the band. The first single, "Heaven's Trail (No Way Out)," was a hit with hard rock audiences, setting the stage for the second single, a comforting ballad called "Love Song" which substituted a dash of hippie utopianism for the usual power ballad histrionics.

"Love Song" hit the pop Top Ten and made the band stars, pushing The Great Radio Controversy into the Top 20 and double-platinum sales figures; the follow-up single, "The Way It Is," was also a hit.

The studio follow-up to The Great Radio Controversy, Psychotic Supper, was released in 1991 and quickly became another platinum hit and spun off the greatest number of singles of any TESLA album: "Edison's Medicine," "Call It What You Want," "Song and Emotion," and the classic hit, "What You Give," which was another one of TESLA's ballad singles that reached Top 20 radio airplay.

TESLA's music is often referred to as heavy metal, but is better described as blues metal. The band's lyrics also strayed from the themes popular in heavy metal, particularly in the 1980s at the beginning of their career. A further distinction from their contemporaries was their T-shirt-and-jeans image which was in strong contrast to glam metal bands of the time, which were characterized by big hair, leather pants, and flashy makeup.

Tickets are $55, $45 or $35 plus tax and an online/phone ticketing fee (this fee is waived when tickets are purchased in the Gift Shop). Tickets in the ADA section are for patrons with mobility disabilities and up to three companions. If companion seating is not available because the ADA section is sold out, RCGR will offer other seats as close as possible to the accessible seat, if available, at the purchase price of the other section. Tickets are on sale in the Gift Shop and online.

Doors open at 7pm for the 8pm show.