Bad Company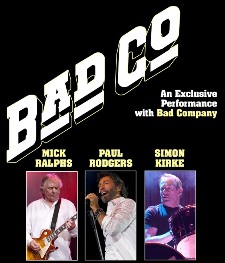 Outdoor Concert

BAD COMPANY featuring All Original Members Paul Rodgers, Mick Ralphs, and Simon Kirke

Celebrating their 40th anniversary since forming, Bad Company heads out on an excursion that begins on June 15 in Rancho Mirage, CA and will stage 23 dates, ending on August 3 in Ontario. The band appeared in June, 2012 at the Sweden Rock Festival, which followed a tour of the Japan and North America in 2010 that staged 21 appearances. Prior, Bad Company toured the U.K. for an eight-date run, which concluded at Wembley in London, followed by ten shows in the U.S. in 2009. In front of the tour, Paul Rodgers shares, "When Mick and I formed the band we were amazed at the instant success. It didn't hurt to have Led Zeppelin behind us, and we wrote some decent songs that still resonate. This one is for the fans."

Bad Company were dubbed a super-group upon the band's formation due to the union of Free's Paul Rodgers (Vocals / Multi-Instrumentalist) with Mott The Hoople's Mick Ralphs (Guitar) plus Free's Simon Kirke (Drums) and King Crimson's Boz Burrell (Bass), who passed away in 2006. Over the next nine years, the band released a string of six albums that sold tens of millions of copies, yielding international hits "Can't Get Enough," "Bad Company," "Feel Like Makin' Love," and many others penned by the main songwriters Paul Rodgers and Mick Ralphs. Original members Rodgers, Ralphs, and Kirke will be joined by guitarist Howard Leese and bassist Todd Ronning (from Paul Rodgers solo band).

Bad Company has inspired many of today's musicians. Most notably, Metal band Five Finger Death Punch who scored a #1 Active Rock hit with a cover of the song "Bad Company". Since 2001, the band has only played 11 isolated performances and has not staged a tour of The United States and Canada until now.

Tickets are $70, $55 or $30 plus tax and an online/phone ticketing fee (this fee is waived when tickets are purchased in the Gift Shop). Tickets will go on sale at 8am on Friday, April 26th in the Gift Shop and online.

Gates open approximately one hour prior to the show and the concert starts at 9pm. Reserved seating is provided in the VIP sections. Guests in the general admission section are welcome to bring a lawn chair. Seating is not provided in that section. No outside coolers or beverages allowed. Per the Iowa Smokefree Act, smoking is not allowed on the concert grounds.

Concert open to all ages.