Brian Regan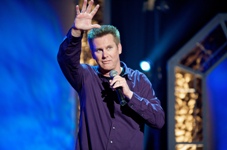 TWO SHOWS

Critics and peers agree: Brian Regan has distinguished himself as one of the premier comedians in the country. The perfect balance of sophisticated writing and physicality, Brian fills theaters nationwide with fervent fans that span generations.

In 2011, Brian's highly anticipated second album, All By Myself, was released on CD available only through his website. The live concert recording was originally released as a digital download in December 2010 only available through his website. Releasing two critically acclaimed hour Comedy Central specials and DVD's in as many years - 2008's The Epitome of Hyperbole, and 2007's Brian Regan Standing Up - Brian has set a standard of excellence that others continually try to follow.

Brian's non-stop theater tour has visited more than 80 cities each year since 2005 and continues through 2013. It is the quality of his material, relatable to a wide audience and revered by his peers, which continues to grow Brian's fan base. In January of 2012 Brian broke the record for the most consecutive shows by a comedian at Abravanel Hall in Salt Lake City with ten sold-out shows selling more than 26,000 tickets. In March of 2010, Brian performed five sold-out shows at Abravanel Hall breaking the previous record of four shows set by Jerry Seinfeld in 2005.

With his first appearance on "The Late Show with David Letterman" in 1995, Brian solidified his place on the show. He made his 25th appearance in 2012, the most of any comedian on the CBS show. A dorm room favorite, Brian's 1997 CD, "Brian Regan Live," has sold over 150,000 copies and consistently charts in iTunes Top Ten Comedy Albums. Brian's 2000 "Comedy Central Presents" special continues to be a top viewer choice, and Brian's independently released 2004 DVD, "I Walked on the Moon," is available at www.BrianRegan.com.

Tickets are $55, $45 or $35 plus tax and an online/phone ticketing fee (this fee is waived when tickets are purchased in the Gift Shop). Tickets in the ADA section are for patrons with mobility disabilities and up to three companions. If companion seating is not available because the ADA section is sold out, RCGR will offer other seats as close as possible to the accessible seat, if available, at the purchase price of the other section. Tickets are on sale in the Gift Shop and online.

Hotel packages are available by calling 877-677-3456. Packages are $285 and include a one night stay in a deluxe king or double queen room, two tickets to the show and two dinners at Robert's Buffet. There are a limited number of hotel packages available.

Doors open at 5pm for the 6pm show and approximately 8pm for the 9pm show.

NO FLASH PHOTOGRAPHY. NO AUDIO OR VIDEO RECORDING.