Wilson Phillips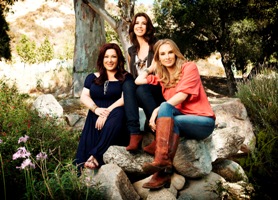 2011 was a huge year for Wilson Phillips. They gained a lot of attention and some new fans when they appeared in the blockbuster hit film Bridesmaids in which they performed their stellar hit "Hold On." Chynna Phillips added to her luster as a skilled dancer and endearing competitor on ABC's Dancing with the Stars, while Carnie Wilson increased her immense fan base as host of Karaoke USA and participant on Celebrity Wife Swap.

In 2012, the momentum continued for the trio with the release of Dedicated, a new Wilson Phillips studio album made up of covers by The Beach Boys and The Mamas and the Papas. Additionally, the lifelong friends starred in Wilson Phillips: Still Holding On, a TV Guide Network reality show documenting the group's adventures in and out of the recording studio, and toured the U.S. and Canada in support of the new album.

The 1990 release of the eponymous Wilson Phillips album heralded the emergence of a bright new pop vocal trio, and one unique in its heritage. Sisters Carnie and Wendy Wilson are the daughters of The Beach Boys' genius Brian Wilson, while Chynna Phillips is the daughter of The Mamas & The Papas' John and Michelle Phillips. Together the gals produced a harmonic blend that did their parents proud while achieving their own chart-topping success.

Wilson Phillips sold over five million copies of its debut album, which was propelled by its gold singles "Hold On" and "Release Me," which both reached No. 1 and "Impulsive," which reached No. 4. A fourth single, "You're In Love," returned the group to the top early in 1991, and was followed, incredibly, by a fifth single, "The Dream Is Still Alive," which peaked at No. 12.

Following their Adult Contemporary chart hit cover of "Daniel" from the 1991 tribute album Two Rooms: Celebrating the Songs of Elton John & Bernie Taupin, their platinum 1992 Wilson Phillips follow-up Shadows And Light yielded three more pop hits in "You Won't See Me Cry," "Give It Up" and "Flesh & Blood." The threesome had quickly become the best-selling female group of all time; they had been nominated for five Grammy Awards, an American Music Award, and won a Billboard Music Award.

After Wilson Phillips' Greatest Hits album was released in 2000, they reunited in 2001 to sing the Beach Boys' "You're So Good to Me" at a Brian Wilson tribute show at Radio City Music Hall. They released California, a new album of California-inspired cover songs, in 2004, and had an Adult Contemporary hit with their version of Fleetwood Mac's "Go Your Own Way." In 2010, the trio reunited with their original Wilson Phillips producer Glen Ballard for their first-ever holiday album, Christmas In Harmony. The album brought the group back together in full swing 20 years after their breakthrough album.

Tickets are $55, $43 or $35 plus tax and an online/phone ticketing fee (this fee is waived when tickets are purchased in the Gift Shop). Tickets in the ADA section are for patrons with mobility disabilities and up to three companions. If companion seating is not available because the ADA section is sold out, RCGR will offer other seats as close as possible to the accessible seat, if available, at the purchase price of the other section. Tickets are on sale in the Gift Shop and online.

Hotel packages are available by calling 877-677-3456. Packages are $280 and include a one night stay in a deluxe king or double queen room, two tickets to the show and two dinners at Robert's Buffet. There are a limited number of hotel packages available.

Doors open at 8pm for the 9pm show.