Miranda Lambert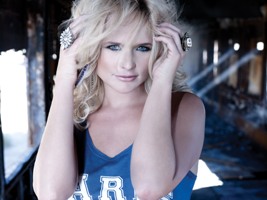 Outdoor Concert

Due to unforeseen circumstances, the Pistol Annies have cancelled their June 28th performance at Riverside Casino & Golf Resort. However, Miranda Lambert will be bringing her award winning show to the outdoor stage at Riverside Casino in their place. All tickets purchased for the Pistol Annies concert will be honored at the Miranda Lambert performance. No exchanges are needed for guests who have already purchased tickets.

In her hit single "Baggage Claim," Miranda Lambert sings about the kind of luggage you wish would get lost. "I have been dragging around your sensitive ego," she tells an ex-friend or lover — soon concluding, with characteristic swagger, that she'll "drop your troubles off at the conveyor belt/I hand you a ticket to, go get it yourself." Mr. Needy is left doing loops on the suitcase carousel while Lambert's rocking out in the unloading zone.

With the release of Four the Record, Miranda comes bearing some baggage of her own – the precious kind, well-earned over the course of three highly loved (and unanimously platinum) prior albums. Her accolades could fill a whole set of trunks.

To point out just one carry-on case's worth of kudos: Miranda made history when Four The Record debuted at Number 1 making her the first artist in the 47 year history of the Billboard Top Country Albums Chart to have all four of their first four albums debut at that spot. Lambert is country's reigning female vocalist of the year, as bestowed by both the Country Music Association (for the second straight year) and the Academy of Country Music. She's won the prized album of the year trophy from both organizations, as well – from the ACMs for her second record, Crazy Ex-Girlfriend, and from the CMAs and ACMs for her third, Revolution. She received the top country female vocal performance honor at the most recent Grammy Awards for "The House That Built Me." In 2010, she finally earned the triple crown – love from industry orgs, critics, and radio – when she bagged her first three No. 1 singles with "White Liar", "The House That Built Me" and "Heart Like Mine." And, lest all her honorifics be so high-minded, she's been named one of People magazine's Most Beautiful People and one of Maxim's Hottest Women of Country. Frequent flyers can hardly rack up more awards points than that.

A limited number of tickets remain for sale for the Miranda Lambert concert. The remaining tickets are $35 plus tax and an online/phone ticketing fee (this fee is waived when tickets are purchased in the Gift Shop). Tickets are on sale in the Gift Shop and online.

Any guests who purchased tickets for Pistol Annies that do not want to attend the Miranda Lambert performance may receive a refund up until the day of the show. In order to receive a refund, tickets must be brought to the point of purchase. Refunds cannot be processed without the ticket in hand. If you purchased tickets online and they are still located at will call, you may call the Gift Shop for more information. No Pistol Annies ticket refunds will be honored after the Miranda Lambert concert on June 28th. All Pistol Annies ticket refunds must be requested by 8pm on Friday, June 28th.

Gates open approximately one hour prior to the show and the concert starts at 9pm. Reserved seating is provided in the VIP sections. Guests in the general admission section are welcome to bring a lawn chair. Seating is not provided in that section. No outside coolers or beverages allowed. Per the Iowa Smokefree Act, smoking is not allowed on the concert grounds.

Concert open to all ages.