Chris Young
(No performances available)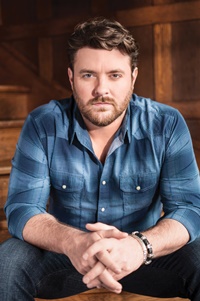 When an artist looks back on his or her own career, there are always moments he or she can point to where there was a shift to another level. Chris Young has a sense that something is happening. "I really do believe in timing," says Young. "Everybody has a different point in their career when things start to come together and click, when it's your time."

With the release of his third studio album, NEON, Chris Young leaves no doubt. Now is his time. How's this for everything clicking – NEON's first single, "Tomorrow," is the fastest-rising hit of his career. The cut raced to the top of the charts and is certified Digital Gold by the RIAA for sales exceeding 500,000 downloads.

And as far as timing - Young's career is ticking like a Swiss watch. The last four singles Chris Young has released have all hit #1 on the charts, including "Tomorrow" and the smash hit "Gettin' You Home," a song that earned him his first ever Grammy nomination. All signs are pointing skyward as NEON debuted at #4 on the all genre Billboard Top 200 chart.

But it wasn't always so easy for Young. The honky-tonk school of hard knocks - including a class fronting a seven-piece band on a run through Texas -and countless hours honing his craft at writers nights in Nashville paid off with a record deal and debut on RCA. The self-titled album would go on to earn Young the title of best-selling new country male vocalist for 2006 and a nod for the Academy of Country Music's Top New Male Vocalist award.

Young doubled down on the success of his first record with the release of his second CD, The Man I Want To Be. Any concern over maintaining momentum vanished when the album produced three back-to-back #1 singles. The impressive streak started with "Gettin' You Home" and picked up steam with the release of the title track. "The Man I Want To Be" was then followed by a song that would earn Chris Young a place in the history books. "Voices" was originally the first single released from Man. It made its initial run up the chart in late 2008 but stalled just inside the Top 40. When the label made the decision to give it a second go two years later, it soared all the way to #1.

While all the sales numbers, accolades and awards are certainly appreciated, what Young values most about this time in his life is that he can make a living doing what he loves most. "I get to do exactly what I love, which is write and create and put it in permanent ink," Young says with a grin. "We didn't put it in pencil."

Tickets are $59, $49 or $39 plus tax and an online/phone ticketing fee (this fee is waived when tickets are purchased in the Gift Shop). Tickets in the ADA section are for patrons with mobility disabilities and up to three companions. If companion seating is not available because the ADA section is sold out, RCGR will offer other seats as close as possible to the accessible seat, if available, at the purchase price of the other section. Tickets are on sale in the Gift Shop and online.

Doors open at 8pm for the 9pm show.