Tommy James & The Shondells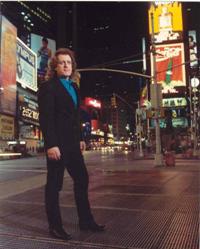 "Hanky Panky," "Mony Mony," "Crimson and Clover," "Crystal Blue Persuasion," "Draggin' The Line"...The music of Tommy James is heard continuously, everyday, in every country in the world: on the radio, television or a film soundtrack. To date, he's sold over 100 million records and has been awarded 23 gold singles plus nine gold and platinum albums.

Tommy's songs have become pop culture classics and have been covered by everyone from punk rockers (Joan Jett and the Blackhearts) to country icons (Dolly Parton). In 1987, Tiffany and Billy Idol's versions of "I Think We're Alone Now" and "Mony Mony" respectively battled for the top spot on the pop chart for a solid month, each eventually going number one. It was the first time in music history that two cover versions of songs by the same artist went number one back-to-back. As of 2011, over 300 artists have recorded their rendition of a Tommy tune (among them Prince, R.E.M, Tom Jones, Cher, and Concrete Blond) or performed his songs in concert (including Bruce Springsteen, Kelly Clarkson, Santana, and Broken Bells).

Over the years, Tommy's music has graced countless movies, television shows, and advertisements. Notable appearances on the big screen include spots in Forrest Gump, Oliver Stone's Heaven And Earth, Cape Fear, Don't Tell Mom The Babysitter's Dead, We Are Marshall and Austin Powers: The Spy Who Shagged Me.

In 2008, Tommy marked the start of his fifth decade as a recording artist with the release of the I Love Christmas CD. Tommy also put out a career-spanning retrospective for his fans, 40 Years: The Complete Singles Collection (1966-2006), which included all 48 of his singles.

Last year Tommy's autobiography – Me, The Mob and The Music – became a bestseller for Simon & Schuster and garnered rave reviews from Rolling Stone and Mojo magazine. The thrilling tale of Tommy's career and his tumultuous relationship with the "Godfather" of the music industry, Morris Levy, is in development as a major motion picture.

Today, Tommy is busier than ever: performing to sell out crowds across the country, working on his Hollywood venture, and developing new business opportunities through his artist-based Aura Entertainment Group.

Tickets are $49, $39 or $29 plus tax and an online/phone ticketing fee (this fee is waived when tickets are purchased in the Gift Shop). Tickets in the ADA section are for patrons with mobility disabilities and up to three companions. If companion seating is not available because the ADA section is sold out, RCGR will offer other seats as close as possible to the accessible seat, if available, at the purchase price of the other section. Tickets are on sale in the Gift Shop and online.

Doors open at 8pm for the 9pm show.