Wynonna's Rockin' Christmas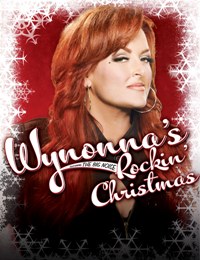 Celebrate the holiday season on December 8th & 9th with a special Christmas show from country artist Wynonna Judd! Traveling alongside her band the Big Noise, Wynonna will blend her classic country hits with popular holiday songs to bring Christmas cheer to her fans this winter.

Wynonna's career has always revolved around telling stories. Whether she's using her rich, commanding voice to sing one of her countless hits or sitting down for a bold, honest appearance on The Oprah Winfrey Show, Wynonna always gets her point across with unflinching honesty and wisdom gained over the course of her very public life.

Of course, Wynonna's own journey as one half of legendary duo The Judds with her mother Naomi Judd provides one of the most fascinating stories in country music history. Rising to superstardom in the early '80s on the strength of chart toppers like "Mama's He's Crazy," "Why Not Me" and "Grandpa (Tell Me 'Bout the Good Old Days)," The Judds were unstoppable for the rest of the decade picking up multiple GRAMMY, CMA and ACM Awards and selling more than 20 million albums along the way. The duo's initial run came to an end with a record-breaking farewell tour in 1991 after Naomi was diagnosed with Hepatitis C. While Wynonna went on to launch her wildly successful solo career, Naomi fully recovered from her illness and became a bestselling author, speaker and talk show host. Due to popular demand, The Judds have embarked on two highly successful tours since Naomi's initial retirement -- 2000's Power to Change tour and their recent outing, The Last Encore.

Wynonna is also recording her eighth studio album. It's just the latest in a string of hit albums that started with her quintuple platinum 1992 solo debut, Wynonna. That set spawned four number one hits and was the bestselling country album ever by a female artist at that time. In 1994, Wynonna received the coveted Top Female Vocalist of the Year trophy at the ACM Awards, and Rolling Stone called her "the greatest female country singer since Patsy Cline." Engaging the soulful, bluesy side of her voice only hinted at with The Judds, Wynonna went on to sell more than 10 million albums and reach new creative heights with six chart toppers of her own. Now, with her novel Restless Heart in stores and The Judds OWN docu-series which debuted with enormous television ratings, you can bet Wynonna's fans will be watching very closely as she writes this next chapter of her legendary career.

Tickets are $55, $44 or $38 plus tax and an online/phone ticketing fee (this fee is waived when tickets are purchased in the Gift Shop). Tickets in the ADA section are for patrons with mobility disabilities and up to three companions. If companion seating is not available because the ADA section is sold out, RCGR will offer other seats as close as possible to the accessible seat, if available, at the purchase price of the other section. Tickets are on sale in the Gift Shop and online.

Hotel packages are available by calling 877-677-3456. Packages for a Saturday night stay are $295 and packages for a Sunday night stay are $235. They include a one night stay in a deluxe king or double queen room, two tickets to the show and two dinners at Robert's Buffet. There are a limited number of hotel packages available.

Doors open at 8pm for the 9pm show on Saturday and 3pm for the 4pm show on Sunday.