Cheap Trick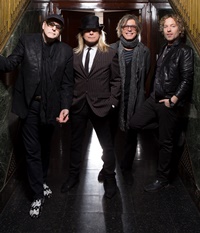 Saturday, June 15, 2019 – 8pm

SOLD OUT

NO FLASH PHOTOGRAPHY

Cheap Trick is part of the very fiber of American music, inspiring and delighting generations with their unique union of massive melodies and razorblade riffs, their own special brand of mischievous wit and maximum rock 'n' roll. Frontlined since 1974 by Robin Zander (vocals, rhythm guitar), Rick Nielsen (lead guitar), and Tom Petersson (bass guitar), the Rockford, IL-born Rock and Roll Hall of Famers are as vital today as ever, having released three spectacular records in the last three years -- BANG ZOOM CRAZY...HELLO (2016), WE'RE ALL ALRIGHT! (2017) and CHRISTMAS CHRISTMAS (2017) – and toured relentlessly to packed audiences around the world.

With over 5,000 performances spanning four decades and 20 million records sold worldwide, Cheap Trick is undoubtedly one of the most influential classic rock groups of the past 50 years. They are an indisputable American institution, beloved for their instantly identifiable, hugely influential, brand of pop rock 'n' roll. Hits such as "I Want You To Want Me," "Dream Police," and "Surrender" have cemented the group as one of America's top rock 'n' roll bands of all time.

Tickets are $70, $55 and $35 plus tax and an online/phone ticketing fee (this fee is waived when tickets are purchased in the Gift Shop). Tickets in the ADA section are for patrons with mobility disabilities and up to three companions. If companion seating is not available because the ADA section is sold out, RCGR will offer other seats as close as possible to the accessible seat, if available, at the purchase price of the other section. Tickets are on sale in the Gift Shop, by calling 877-677-3456 or online.

Doors open at 7pm for the 8pm show.