Clint Black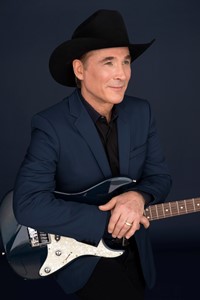 Saturday, March 7, 2020 - 8pm

It is one of the most storied careers in modern music. Clint Black surged to superstardom as part of the fabled Class of '89, reaching #1 with five consecutive singles from his triple platinum debut, Killin' Time. He followed that with the triple-platinum Put Yourself in My Shoes, and then a string of platinum and gold albums throughout the '90s. Perhaps most impressively, Clint wrote or co-wrote every one of his more than three dozen chart hits, including "A Better Man," "Where Are You Now," "When My Ship Comes In," "A Good Run of Bad Luck," "Summer's Comin'," "Like the Rain" and "Nothin' But the Taillights," part of a catalog that produced 22 #1 singles and made him one of the most successful singer/songwriters of the modern era.

Along the way, Clint has sold over 20 million records, earned more than a dozen gold and platinum awards in the U.S. and Canada including a GRAMMY, landed nearly two dozen major awards and nominations, and earned a star on the Hollywood Walk of Fame.

Tickets are $70, $55 and $40 plus tax and an online/phone ticketing fee (this fee is waived when tickets are purchased in the Gift Shop). Tickets in the ADA section are for patrons with mobility disabilities and up to three companions. If companion seating is not available because the ADA section is sold out, RCGR will offer other seats as close as possible to the accessible seat, if available, at the purchase price of the other section. Tickets are on sale in the Gift Shop, by calling 877-677-3456 or online.

Doors open at 7pm for the 8pm show.